I connect from my heart to yours
The heart is where 'self' love lies and where 'healing' takes place. My practice helps the participant feel, experience and get in touch with the divine that lies within all of us.
I work intuitively and use the healing qualities of flowers to help others. In the season (from April until November) I utilize the flowers from my own garden. They are all naturally grown without the use of any pesticides and I encourage many insects and bees to live in the garden to preserve nature's intent.
Over the years, working with flowers and people in this way has become a real passion of mine. And my passion continues to grow on a daily basis when I see the self-love, self-reflective and happy moments developing in others.
The practice of Flower Reading is a wonderful way to experience the energetic connections shared by all human beings, and I've been gifted with the ability to connect to this energy within a flower…
I use fresh flowers for different purposes:
Testimonials
What clients say
Frederike – Flower Reading
"Imke is one the most loving persons I know. And as I have known her basically all my live, I have had the privilege to not only grow up with her, but also witness how her gift has grown on her. From a very young age, she has always had the special ability and sensitivity to look beyond what was presented in front of her. She sees a universe where others merely see one picture. And she has nature as her guide.
Acknowledging her gift from nature, flower reading was the obvious next step. When she first asked me to pick a flower, I couldn't think of anything that she didn't already know. But then, there are always things you don't know yourself. As the flower unfolded, so did new paths.
With Imke you will find new ways and guidance on your journey. You will find answers before you thought of the questions. She has the spirit of a child and the wisdom of old age. She can teach you how to have faith and be patience. And most of all, she will bring a smile on your face from the moment you meet her.
I can only wish for you to meet her, sooner rather than later."
Ingeborg – Flower Reading
"Flower reading is a unique experience that already starts when choosing your flower for the reading. It's always surprising how the flower together with Imke  senses and appoints your  inner world at that moment And what your real inner 'I' and world desires or struggles with."
Annette – Flower Reading
"I enjoyed Imke's flower reading very much in the beautiful surrounding of her garden and cozy house.The reading was extremely accurate and I can only recommend it. She made a beautiful flower arrangement for my mothers funeral. I never told her about the flowers my mom loved but that were all in the bouquet she made, even in the colors she liked."
Make your appointment
to connect with the world of flowers
If you're interested in booking a Flower Reading, either privately or in a group environment, I love to hear from you. It's even possible online!
Fresh articles
My personal experiences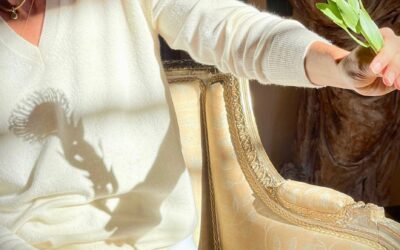 Hello my dear flower lovers, This month I would like to tell you about how I use flowers with their healing qualities to support us on our...